Gulfport Car Accident Attorney
Seek Professional Representation from Gulf South Law Firm
Car accidents frequently result in severe injuries. If you are suffering from an auto accident injury, it is recommended that you consult with an attorney before accepting any offers from the insurance company. An experienced auto accident lawyer can help you receive the compensation you need for necessary medical care and related expenses.
At Gulf South Law Firm, we believe in providing our clients with compassionate yet aggressive advocacy. When you work with our Gulfport car accident lawyer, you can be sure that your needs are put first.
Gulf South Law Firm is here for you. Contact us today at (228) 231-3989.
Do I Need a Lawyer After a Car Accident?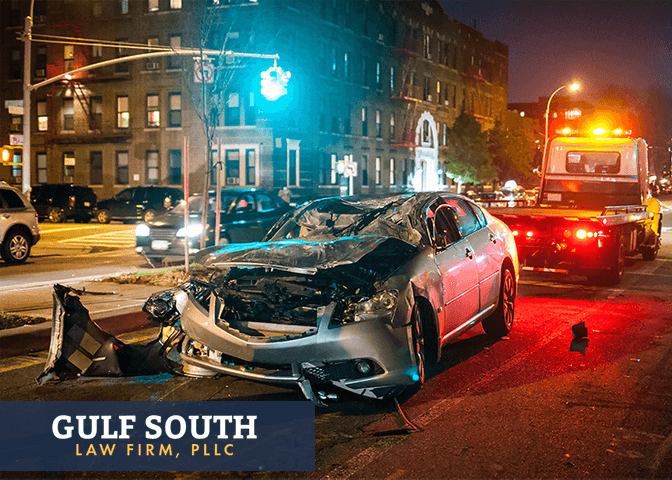 If you were injured in a car wreck, your primary focus should be recovery. However, you may also be facing the stress of mounting medical bills, difficult insurance companies who refuse to pay, and time out of work that you cannot afford. This stress can inhibit your ability to get better. An attorney familiar with how car accident cases are handled in Mississippi and Louisiana can help alleviate this burden and get you on the road to recovery.
You may be entitled to compensation for:
Emergency medical services, such as ambulance rides and ER visits
Ongoing medical expenses related to your injury
Emotional distress and trauma
Rehabilitation costs
Costs associated with a permanent disability
Lost wages
Damaged property
Knowing where to turn for help after a car accident can be daunting. At Gulf South Law Firm, we are committed to helping our clients through this challenging process from start to finish.
What are the Main Causes of Car Accidents?
There are many factors that can contribute to the seriousness of a car accident. From defective car parts to seat belt use, determining liability in an auto accident is extremely complex.
At Gulf South Law Firm, our attorneys are experienced in handling these types of claims and understand what type of evidence is required to prove negligence. Our firm handles all types of accident claims, including:
Distracted driving accidents
Drunk driving accidents
Uninsured/underinsured accidents
Single-vehicle accidents
Reckless driving accidents
Aggressive driving accidents
Accidents caused by defective car parts
Roadway caused accidents
If you've been involved in an accident and would like to recover maximum compensation for your injuries, then it is time to contact a lawyer. With the help of experienced counsel, you will be able to determine your best possible legal options.
Common Types of Car Accidents in Mississippi
Car accidents can be incredibly straightforward, but they can also be extremely complex. Because the circumstances of each vehicle crash are different, there are no cookie-cutter answers to these types of injury claims.
Common types of auto accidents include:
Head-on collisions
Multi-vehicle accidents
Rear-end crashes
Single vehicle accidents
T-bone collisions
Side-swipe accidents
At Gulf South Law Firm, our legal team is licensed to practice in both Mississippi and Louisiana and has represented all types of motor vehicle accident claims. If you've been seriously injured by another driver and would like to know your legal options, give us a call today and arrange a free, initial case review.
We Take Every Case Seriously
Attorney Heath Sullivan knows that every client is different and that every case is unique. With this in mind, our car accident attorney in Gulfport is focused on bringing clients the personalized legal representation they need.
---
Client Testimonial
"Mr. Sullivan of the Gulf South Law Firm is a knowledgeable and professional attorney.
He takes the time to talk with clients and work around their schedule.
I will always choose Mr. Sullivan and the Gulf South Law Firm to represent my needs."
---
This meticulous, detail-oriented approach can help you feel more supported and confident in court. When you want to work with a car accident lawyer who has a hands-on approach, call us.
Get serious and get Gulf South. Call us for a free consultation at (228) 231-3989.
Our Clients Love Us
See How We Have Touched Other's Lives
- Philip Anthony

- John Bruscato

- Mallory Liddell

- Emily Fertig

- William Mendolia